Flair Espresso - Preheat Tricks
One of the challenging parts of manual esspresso making without electronics is heat management. For a proper extraction, it is absolutely vital that the brew chamber and piston are properly pre-heated.
This is the part that also scares most people about manual espresso making, and quickly marks the process as "finicky", "laborious" or just too much effore. I completely understand this sentiment, but as an avid flair fanboy, I have to say that pre-heating and the multitudes of ways the community has found to pre-heat is also just part of the ritual and learning process.
I would describe the main challenges as follows
iterations: repeating a process multiple times (e.g. re-filling the chamber with hot water) is cumbersome and not a lot of fun.
cooldown: because of the rapid cooldown, you have to act qui ckly when getting the chamber from the heatsource to the machine.
handling: when properly heated, the brew chamber is HOT. The metal parts are scolding, but even the silicone wrapping is too hot for my comfort to touch.
The recommended way of pre-heating as explained in the manual is filling the brew chamber with hot water, and repeating this multiple times. Alternatives have been given to soak the brew chamber in hot water and getting them out with tongs, which also didn't really solve the above challenges.
My current, recommended, pre-heat method is as follows: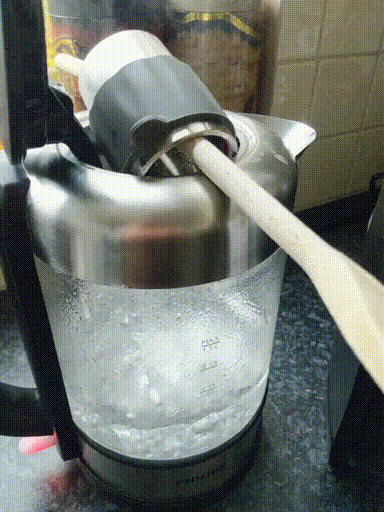 Our Philips Avance Kettle HD9342/01 boils water and produces steam. When the top lid is opened, the kettle will not cancel and keep producing steam. I put the piston into the brew chamber and suspend the brew chamber on top of the kettle using the back of a wooden spoon.
The spoon ensures the brew chamber does not fall into the kettle and the steam gives off massive heat to the chamber.
The added benefit of the wooden spoon is that it allows me to carry the brew chamber to the portafilter and slide the chamber device off the spoon to transfer the brew chamber to the portafilter:
I then use the wooden spoon to press the chamber onto the portafilter, without having to touch the brew chamber itself. I then fill the chamber with the same boiled water from the kettle, add the stem / pressure gauge and start pulling the shot.
This approach is done in one iteration, has a quick transfer te ensure as little cooldown as possible, no double heating of pre-heat water and espresso water and a lot less risk of burning your hands. Please let me know if you have an even more optimized and safe method in the comments below!