Eureka Mignon Perfetto coffee grinder first impressions
for €389.00
, from koffie-loods.nl.
Exciting news: I've upgraded our grinder situation and got a Eureka Mignon Perfetto! After using the Baratza Encore for Aeropress since June 2020, I got really curious about the difference in taste profile from a grinder dedicated to espresso. The coffee community is quite adamant about the Encore not being able to grind for espresso that well. As I have said before: I don't agree, since I've made some very tasty espresso using the Baratza Encore, but it is a fact that higher quality grinders produce much better and more consistent grounds for espresso shots.
That being said, there's all sorts of things to be discussed about this grinder and I'll probably create a series on some specific topics. In this blog I'll focus on the choice process, differences with my previous grinder and some of my first impressions.
Multipurpose: One of the hardest factors in deciding upon a grinder was the fact that we want it to be multipurpose. We alternate between aeropress grind size and espresso multiple times a day, and there aren't a lot of espresso grade quality grinders that really achieve this feat. This is also the reason why we chose the Perfetto over the more popular Specialita from the full range of Eureka Mignon grinders. The Perfetto is the only Eureka grinder that features a fast setting knob to quickly / easily switch between course and fine grind settings and indeed, that works like a charm.
Precision: The downside of having the easy setting dial is that it is harder to make very fine adjustments on this grinder to perfectly tune in your espresso's. The Encore had a very small window of settings for espresso, even with the Encore Stepless Mod. The Perfetto's settings produce proper espresso for the Flair between (stepless) setting 0,5 and 1,5. The Perfetto, opposed to the Encore, has no slack/drifting of settings whatsoever. This enables me to still make super fine adjustments and quickly switch from drip back to espresso range without too much hassle.
Burrs: The biggest difference between the entry level and higher level grinders are the type of burrs used to grind the coffee. The Baratza Encore, like many other affordable grinders, feature conical burrs. The Mignon series use big (50mm plus) flat burrs. Where conical burrs produce grounds of different sizes (bimodal distribution of particles), flat burrs create very consistently sized (unimodal) grounds. How this affects taste and consistency of shots is still heavily debated, both types have their own fan-groups.
Productivity: The big burrs are very productive and grind through beans rather quickly. It takes us about 15 seconds to grind through 15g of coffee, which is pretty darn quick.
Taste: It is completely subjective, but after trying a number of different beans and pulling a dozen shots, I'm sure I like the flavour profile of grounds from a flat burr grinder over the conical burrs. In my experience I get more detail and sweetness from beans that previously produced a more sour, thinner espresso.
Retention: Retention on flat burr grinders is notoriously pretty bad. The Perfetto is no exception. While listening to the specialita review by the Coffee Chronicler I thought the retention was quite ok and I could fix it later with the single dose mod and bellows, but after seeing the cleaning video by coffee with alex you can see how much grounds stick to the chute. I'm currently in the process of performing the single dose mod to avoid about 2-3 grams of retention we experience in the stock setup.
Sound: The new Eureka Mignon series is known for their low-noise operation, especially for a flat burr design. We have found the sound to be much less loud and a lot more pleasing to the ear than the Encore.
Single Dosing: While possible, it is not ideal with the stock hopper. A good bunch of grounds end up on the rubber ledge where the hopper connects to the grinder and a bunch of grounds stick to the top of the chute, just in front of the "declogging zigzag metal pieces". In the stock setup, I found that you need to purge about 2-3 grams just before grinding your beans reducing the retention to about .3 to .5 grams. I'll post a separate blog about the Eureka Mignon Single Dose mod, I truly believe this can turn the Perfetto into a very capable single dose grinder
Timer: There is a neat little grind timer for single and double shots, which is really built for "full hopper use" when you are pulling a lot of shots in a day. The timer feature doesn't really make sense for our single dosing usage, but the display sure looks cool.
Looks: I think the Eureka Mignon Perfetto grinder is one of the best looking grinders on the market. Just look at those gorgeous details!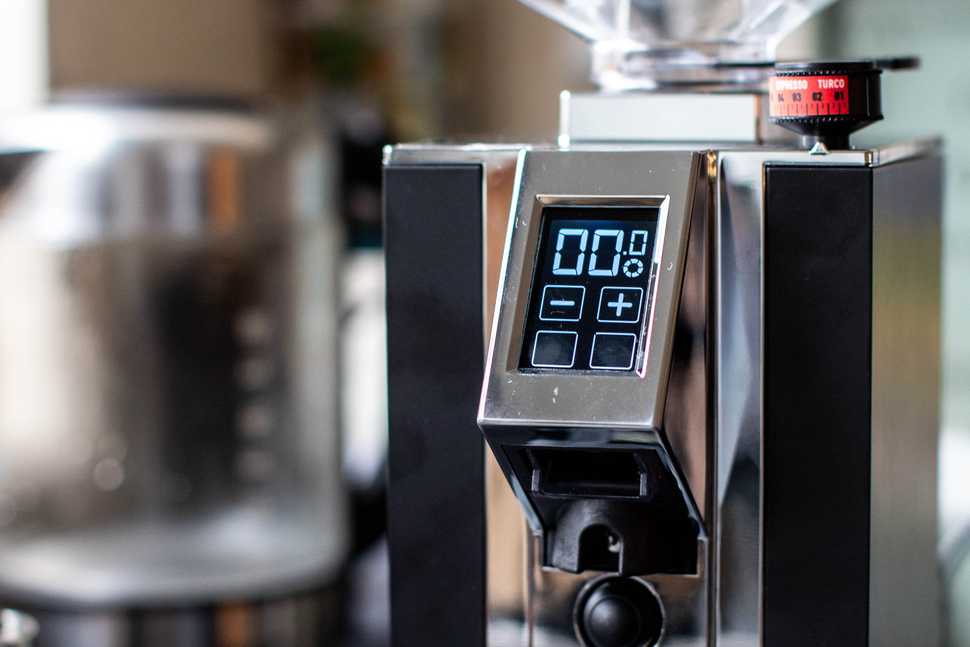 Please stay tuned while we experiment some more and well get back in the future with more updates about our experience with this grinder. If you have any questions feel free to post them below!