TheGodShot Blanca Rosa Melgar Honduras 2020
250 grams
for €8.00
, from The God Shot.
Ground with Perfetto,
Brewed with 

flair signature

aeropress
Let's get excited! Along with the new Eureka Mignon Perfetto grinder I was in the market for a new digital scale that fit under the flair better than the revall scale I got earlier. Whilst searching I found out about "The God Shot", a coffee and coffee equipment store from Belgium. The store is run by Dany Meeuwisen, a super active participant in the Brew with Flair and Nanofoamer Home-baristas facebook communities. After finding out that this is one of the few european stores that actually carries the legendary JoeFrex espresso scale (review coming up soon), they also appear to sell some pretty funky specialty coffees. Ordering the taster package along with the scale and some flair parts was basically a no brainer: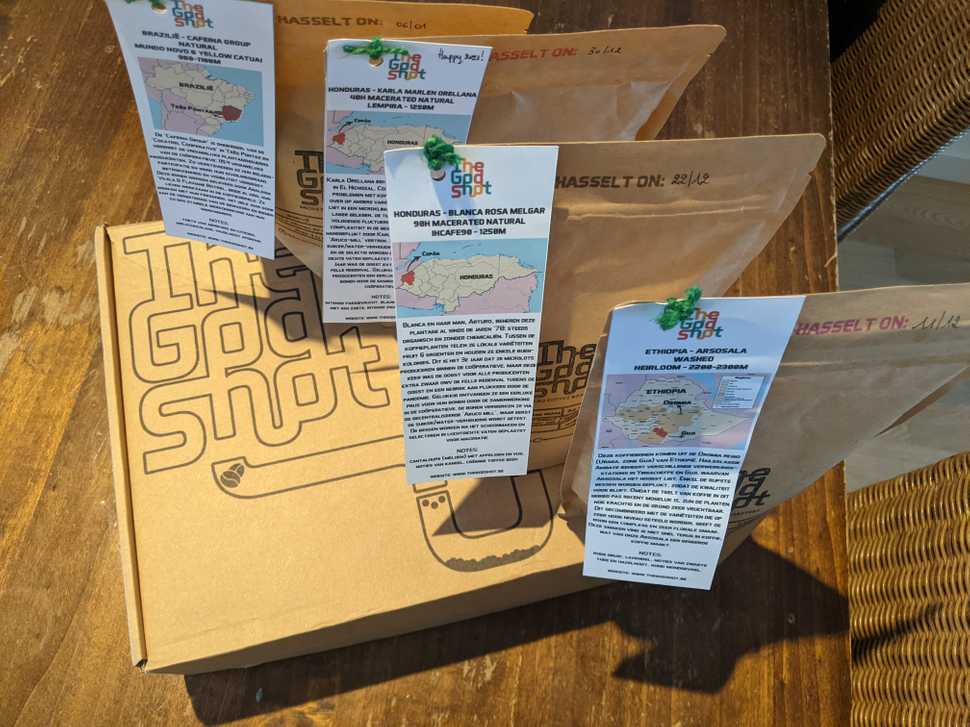 First up in the taster package was the Honduras Blanca Rosa Melgar 90h Macerated Natural. I never heard about macerated coffees before, and the backstory on these beans is quite interesting. The beans originate from an organic plantation that have been growing organically (fruit, vegetables, bees and now coffeebeans) without using chemicals since the 70's. Based on the measured amount of sugar in the liquid added to the coffee berries they decide how how long the berries will be fermented in closed barrels. These have been macerated for 90h, which I can only imagine adds to the funky flavour.
Dialing in these beans was tricky, mostly because this was the first time using my new Eureka Mignon Perfetto grinder. I started out with a runny shot at setting 1, which still produced a very floral and creamy silky slightly sour citrus taste. Second shot at 0.75 was a lot better, allowing the caramel, strawberry, nuts lime and cinnamon flavours to poke through. Third shot was a charm: a perfect 60 second extraction that resulted in an almost juicy drink smelling and tasting like melon, with a slightly darker crema than the earlier shots.
This coffee has got me very interested in macerated coffee's and I'm curious to find out more about them. They are extremely flavourful, edgy almost and when you succeed in keeping the heavy sourness out it is almost as if tasting a delicate single malt whisky. Spoiler alert: there is one other macerated bean review coming up, which is the Karla Marlen Orellana from the same Honduras cooperative.